---
Dr. Jose Oberholzer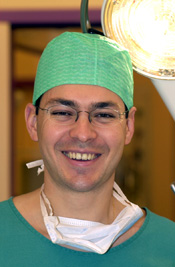 Jose Oberholzer, MD, is an Associate Professor of Surgery, Endocrinology and Diabetes, and Bioengineering at the University of Illinois at Chicago (UIC); Director of the Islet and Pancreas Transplant Program; and Chief of the Division of Transplantation. He has extensive experience in clinical and experimental islet transplantation and abdominal organ transplantation, as well as advanced hepatobiliary and pancreatic surgery. He trained at the University of Geneva (Switzerland) and the University of Alberta in Edmonton (Canada), where he completed a fellowship in hepatobiliary and pancreatic surgery and transplantation.
Dr. Oberholzer was Head of the Islet Transplant Program at the University of Geneva and the GRAGIL islet consortium from 1998 to 2002, completing a significant number of islet transplants. He has headed UIC's Islet Transplant Program since 2003, and is Chief of the UIC Division of Transplantation since Summer 2007. UIC has a comprehensive multi-organ transplant program with emphasis on transplantation for diabetes as well as robotic surgery in living donors for kidney, liver, pancreas and small bowel. Dr. Oberholzer is an expert in advanced minimally invasive and robotic surgery of abdominal organs.
UIC is a federally funded islet cell resource center that prepares islets for researchers around the world. By January 2008, UIC islet isolation teams performed over 250 human islet isolations for both transplant and research.
Dr. Oberholzer has successfully completed a phase 1/2 clinical trial with 10 patients to investigate the effect of anti-inflammatory treatment combined with exenatide on islet transplantation outcomes at UIC. Presently, the UIC islet team is collaborating with Dr. Ricordi and Dr. Alejandro at the University of Miami to investigate the effect of glucagon-like peptides on islet transplant outcomes and strategies to improve the survival of islets after transplantation.
University of Illinois at Chicago
Return to Who is in the CIT Consortium